Getting Started With Article Marketing Robot
Let's start with a video that documents the entire process, then we'll break it down further down the page.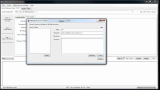 Article Marketing Robot 2.0 - Getting Started
---
1) Step 1 - Create your Author Account
There are two tabs in the Author Accounts section that you need to fill in.
Step 1-A, which is your Author Account Details and Step 1-B which is your POP server configuration.
The Step 1-A section has several fields in it that mimick what you would enter if you were to actually register for a typical website.
In the case of article directories, most of this information can be fake. In fact it all can be fake, with the exception of:
Email

Use a throw away email created specifically for AMR purposes as it will get hit with a lot of spam.
If possible, use an email hosted on one of your domains, and preferably in a cPanel hosting package.
Don't attach other software to that email address (eg Microsoft Outlook) as it will download the emails and delete them from the webmail server, leaving nothing for AMR to use during the confirmation process.



Password

Use the format of Password1 - One capital, one number and the rest lower-case.
This is the password you use to sign up to directories, not your email login password. Keep those different.



Website

You can use your main website, or multiple websites. This is a spinnable field.



About Me

Put something in here. Not all sites require this field, but well help increase registration.
It's recommended not to use HTML in this field as it can lower signup success rates, however a lot of sites will allow HTML as well.
No article directory owner will phone you or mail you something, so you can put in fake details.
Also, you can use the Pre-pop button on the right to automatically fill in fake details for you.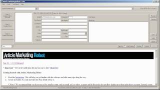 Author Account Best Practices
---
The Step 1-B section is where you put your POP (Post Office Protocol) details.
This is used for AMR to download confirmation emails from your webmail server. It's also one of the most confusing parts of the software for users.
AMR has an Autofill for POP accounts. This normally works most of the time in detecting your POP settings, but some hosting providers have different settings that aren't as common.
The first recommendation is to attempt the Autofill and enter the password you used when you created your email account.
If the "Test Pop3" succeeds, you have nothing more to do.
If it fails, you will get a rather long text box with error data in it.
Authentication Failed is usually the common problem.
If on a cPanel account, try using the secure vs non-secure auto-fill, and if that doesn't work, in the account name, try changing the plus "+" to an at "@".
100% of the time you can access your host's online documentation or contact their support to find out what the correct pop settings should be. Also, look for Microsoft Outlook Express pop configuration settings and mimic it since that will also work for AMR.
---
2) Step 2- Create your Article
It's not essential to do this step next. You can skip to Step 3 - Select Directories and come back to this step if you want.
To create your first article in this tab, click the new button.
In this guide, we'll focus on the group of panes on the right.
Name - Not a required field, but used to give your article a name for your own purposes.
Title - The title of your article. No HTML Allowed.
Summary - A short two or three sentence paragraph that describes your article. No HTML Allowed.
Body - The actual article body. Try to make this at least 500 words. You can use HTML, but some sites restrict HTML to only your resource box, or use Contextual Links.
Contextual Links - Links that are inserted in random places in your article body. Contextual Linking in Article Marketing Robot.
Resource Box - This is where you add your link back to your website. Click here for an example.
Keywords - words that describe your article. If you write about Dog Toys, you can put dog toys, pets, etc.
Comme Delimited Categories - This is the category AMR will attempt to put your article in. It's best to start specific then work your way out to more broad. In the case of Dog Toys: dog, dog toy, pets, animal, family, entertainment .... Something along those lines. If suitable category is found, AMR will randomly select one from the directories available list of categories.
Beide the Resource box you will see some buttons. Those are meant to help easily manage your Resource Profiles.
If you have a lot of articles that are all about the same thing, for example, 15 articles on Dog Toys, then you can apply the same resource box, keywords, and Categories using this function. If you need to make a change like updating a link, you can do so in the "Manage" portion and it will apply the changes across all your articles.
Once you have your article entered, click OK to save it.
To find out more about article spinning, and more details in general, you can view these videos:
Article Writing Best Practices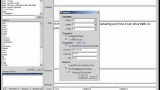 Advanced Article Rewriting
---
3) Step 3 -Sign up and Confirm
This process is quite straight forward but must be completed before attempting a submit, and there are some considerations to be made before proceeding.
Captcha Solving - Those squigly lines of text that are required to verify that you are human.

You can solve those manually, but there are many, and your fingers might fall off while doing this.
You can use a service, such as DeathByCaptcha. There is a list of options in the Tools - Options, Catpcha Solving section.
You can use Captcha Sniper, along with a selected fallback method (service), also in the Captcha Solving section.



Threading (tools - options)- This is how many concurrent processes you want running. The more threads, the faster things go, but it really depends on your computers "horsepower" and your available internet bandwidth. If both are decent, you can up your threads.
In the Step 3 tab, you will see a grid of sites. They are likely to all be in Red. This means that a sign up has not occured, or AMR failed in a previous sign up attempt.
If there are zero sites in the list, click File - Re-Download Site List, then click the Refresh button (the circular looking button in the "Site List Functions")
In the bottom left corner of the Step 3 tab, there is a dropdown box with the word Select. Click that, and choose All. This will tick all the check boxes in the site list. This operation applies for submit as well.
Click the Sign Up button.
You will see some action in the View pane below the Step 3 tab. That's it for Signing Up.
Once that process completes, click the Confirm button.
AMR will access your webmail (pop3) account and download the emails that were sent during the sign up process.
Some emails will contain passwords. AMR will extract those passwords and store them in its database.
Once the confirm process completes, you are ready to submit. Click the refresh button in the Site List Functions (circular arrow).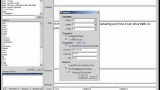 Sign Up and Confirm
---
4) Submitting An Article
This process is almost identical to Sign up and Confirm above.
After the Sign Up/Confirm process, refresh your site list. Some things you will notice:
Sites in red - Sites come and go all the time and with that, sign up failures will happen. You can't expect a 100% success rate, it just won't happen. You can re-attemp signup, or you can delete the sites by highlighting one or more, then click the "-" button in the Site List Functions.


Sites in yellow - Some sites fail to send out confirmation emails, do them at a later date/time, or don't provide the right information in the email body/header to match to the site list. You can re-attempt getting a confirmation email re-sent by highlighting one or more sites, right-click into the grid, Login Details, Forgot Password. Once done, click the confirm button twice.
To filter the site list by just OK's, in the Status box (Step 3, top right) untick Email/None, and in the Submitted, leave all three ticked, then refresh the site list.
This will show all OK sites with nothing submitted.
Select all sites, and in Step 2 - Create Article, select the article you want to submit, and click the Submit button.
Again, you will see action in the View pane. Once that process completes, you can click the refresh button to see the total amount of sites you have submitted to.
Here is a video that will go through the process: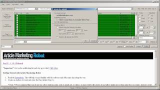 Submitting an Article
---
Congratulations! You have just submitted an article!
Now you can go here for more helpful instructional videos - Instructional Videos